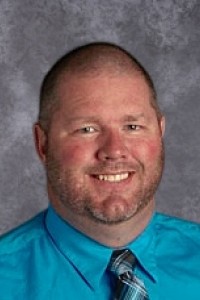 Dear Students and Families,
I can't believe I am already writing my back-to-school letter, as it feels like I just got off the baseball field watching my kids play. Nonetheless, I am excited for the upcoming school year as I know it will be another great year for Garrison Public Schools. Our district continues to improve our multi-tiered systems of support (MTSS) within both schools, which is evident by our elementary school receiving one of the top performing Title I schools in the state of North Dakota this past year. The elementary school will be implementing a new reading curriculum for the upcoming school year, so things may appear slightly different. However, I can assure you it will provide more structure and allow for continuity within grade levels. Our work as a Trauma Informed School district will be ongoing as mental matters are an ongoing concern among all school districts. It is imperative we continue to build strong relationships with our youth to ensure we know and understand their mental well-being.
Our school calendar mirrors much of last year with early outs every Wednesday beginning the second week of school, but we are not doing early dismissals this year. We have opted to do three Professional Development days throughout the year instead, and these can be viewed on our calendar on the website or app. I would encourage you to download our app, if you have not done so, as this does have notifications along with all key district information.
Throughout this summer, we have been incredibly busy in both buildings. This summer new windows were added to the southern portion of the elementary school along with the locker rooms being updated. In addition, basic maintenance, cleaning, and a laundry list of things have been completed due to our hardworking summer staff. If you see any of our maintenance staff, please tell them thank you for all their hard work.
Our new staff members for the upcoming year are Mr. Stetson Pedersen-elementary teacher, Ms. Bobbi-Kay Miller-elementary, Miss Hannah Blomquist-elementary teacher, Ms. Samantha Richards-elementary music, Mrs. Ellie Jacobs-Science, and Mr. Rob Bollinger-HS Ag Ed. Also, we have hired Mrs. Melanie Heinzen and Mrs. Dani Hummel as school administrative assistants along with Miss Shelby Schenfisch as a paraeducator.
Goals for 2023-2024
1. Career and Technical Skills
2. Further enhance/improve MTSS within both school buildings. Elementary is adding math to the interventions along with improving delivery/interventions for reading. High School is ramping up behavioral expectations and classroom norms/expectations along with literacy.
3. Build a stronger collaborative culture between the schools, while recognizing this is a difficult task being two different buildings with differences in age groups.
I look forward to seeing all of you Thursday, August 17, 2023. Enjoy your last few days before school begins.
Sincerely,
Dr. Nick Klemisch, Superintendent
Garrison Public Schools
"Home of the Troopers"